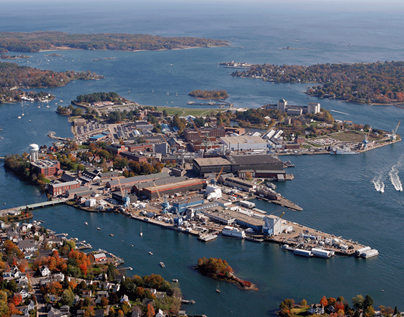 The Portsmouth Naval Shipyard (PNSY) is one of four remaining naval shipyards in the nation. It encompasses over 297 acres located on the federally-owned Seavey Island across the harbor from Portsmouth, New Hampshire, with access to the mainland by two bridges that connect to Kittery, Maine. PSNY employs approximately 4,700 civilian employees, naval officers and enlisted personnel assigned to the shipyard. PSNY has three active dry docks and is capable of docking all active classes of submarines.
CEI was retained to assist with the environmental assessment and characterization of bridge components, as bridge replacement steps were being undertaken.
CEI conducted field surveys of the structure for hazardous materials that included:
•     Bulk and wipe samples for lead paint analysis of structural steel;
•     Asbestos samples of utility lagging, wrap material and joint filler materials used in roadways;
•     PCB analysis and survey electrical boxes, light ballasts, electrical equipment, fiberglass insulation, gasket and felt materials, paint on structural steel, and coal-tar enabled paint; and
•     Mercury survey of electrical equipment, including lighting for mercury.